Payment Options
After you enter your information and hit "Subscribe Now" you will be redirected to a page where you can enter in your Subscriber and Payment information.
If you are a monthly subscriber you will be charged today for the June ArtDrop and then again on the 1st of each month, starting in July.
Annual Subscribers will be renewed 12 months from the date of your sign-up.
Once your account has been created and approved you will receive an email confirmation and a link and a password to the subscribers portal.
By clicking "Subscribe Now" you are agreeing to the Terms of Use
Monthly Subscription
$9.99 today / $9.99 on 1st of each month
Check Your Inbox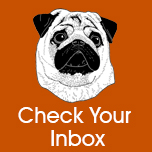 On the first of the month, you'll receive a reminder email letting you know a fresh batch of brand new illustrations are ready. You then can follow the link and log into the subscription portal, where you can view and download your monthly art. In this portal there is also a box where you can list breeds or genres (obedience,rally,etc.) that you would like to see in the future. You can't do that at other sites!