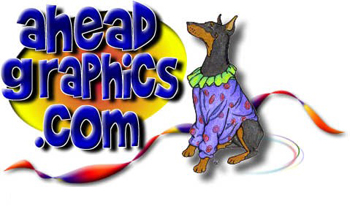 Copyright Notice
---
Please note that all of the clips from the all-breed collection illustrated within the AHEAD Graphics website are all copyrighted to AHEAD Graphics, 1995 - 2012.
The clips illustrated have been altered and manipulated for World Wide Web use and are not intended to be copied or redistributed in any way.
Registered users are permitted to display any of the clips in the collection within their personal or commercial websites, with the stipulation that a reciprocal link will be added back to the AHEAD Graphics website .
If other individuals wish to use the images from the AHEAD Graphics website within their own homepages or website, a request for permission to do so is required . This can be done via email, US mail or by telephone.
For Commercial use of any type we do offer a Commercial version of the collection which works well in many applications. We welcome the use of the collection by our Commercial users and are always adding new images with this use in mind.
AHEAD Graphics
1911 Flesher Avenue
Kettering,OH 45420 USA
Voice 937-252-4770
Respecting our legal copyright will ensure that AHEAD Graphics will continue to offer the collection for individual purchase, and also for display for visitors to our website . Thank you and
All graphics and content within this site are copyrighted to
AHEAD Graphics - 1995-2012 - All Rights Reserved
Remember to...

before using any artwork
| Home | Intro | Private Clips | Dog Embroidery | About AHEAD | FAQ |
---