This is the ULTIMATE dog clipart collection !
AHEAD GRAPHICS offers the ONLY clipart collection like this anywhere in the world !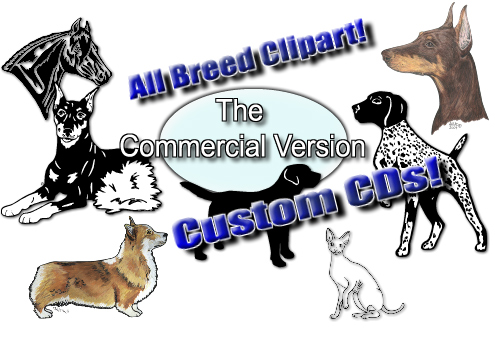 We offer a CUSTOM CD option for people just wanting 'certain' breed images
For those who need the clipart in a vector format - but are only wanting specific breed images, we now offer a Custom Commercial version on CD. The clips are in AI, CGM, DXF,EPS, and WMF. The standard TIF images are also included. (This includes any greyscale and color pieces.)
Usage is allowed for resale on product and marketing with this version with the stipulation that credit must be given to AHEAD Graphics somewhere in the marketing or on the product. Just some of what you can do with the product is listed below:
Sign making • engraving • graphic design • Point of Purchase promotion • silk-screening • offset printing • laser and router cutting • Laser Engraving/Etching • desktop publishing • Web page design • Billboard printing • Textile printing • vehicle graphics • Large format digital imaging • EPS foam cutting • in-house production • wall murals • magazine or newspaper publishing • tradeshow display • embroidery digitizing • Gerber Edge Printers • wall murals • store display or signage • corporate publications and presentations • catalog production and magazine layout • and much more...
Our other purchase options allow you to receive the full collection with all the breed groups or select your groups individually to your needs, or just the silhouettes as well. All Commercial versions now have catalog pages illustrating all the Vector Clips in PDF fomat for you and your customers to view the available artwork! For the FULL Commercial CD Collection, click here.
N O T E: There is a $169.00 savings when the Full CD is purchased vs individual groups.
Redistributing any of the artwork (clips) electronically, on disk or otherwise and the use in digitizing for embroidery is NOT permitted as AHEAD Graphics still holds the copyright on all the artwork.
Custom Commercial CD

CUSTOM OPTION AVAILABLE:

Custom CD: To order, select BUY NOW button. Enter the 50 breeds you desire in the message box provided in the ordering process. We will send a confirmation email on your list before creating your CD!

Custom Commercial CD:

$75.00

This option includes All the Vector , all Tif and Silhouettes!

Shipping $4.00

$75.00

You can always remove it later
For other items and services we offer just click on any option on the legend at the bottom of the page - or go back to our menu selection from our homepage!
For more information about our services, click HERE
All graphics and content are © All Rights Reserved - AHEAD - 1995-2010
| Home | Intro | Order Info | Private Clips | Dog Embroidery |
| About AHEAD | FAQ | Samples |