This is the ULTIMATE dog clipart collection !
AHEAD GRAPHICS offers the ONLY clipart collection like this anywhere in the world !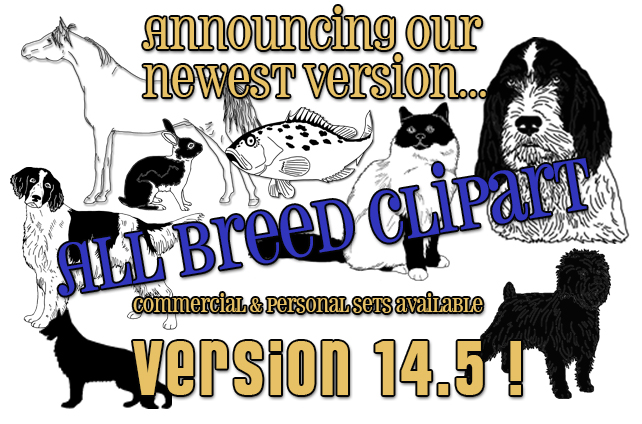 There are now over 900 clips in our very latest version 14.5 on CD-ROM.
ALL AKC Dog breeds and many non-AKc breeds, and most Cat and Horse Breeds are included as well. This newest version boasts the addition of new folders of Rabbits, Cattle & Hogs and our 'Under the Sea' collection. These new folders are a bonus to the collection that still offers more dogs and cats than any other collection out there!
From Affenpinscher to Yorkie - All of the clips are done to breed standards and ALL are original artwork . The representation of Cats, Horses and other non-dog images parallel the dogs. Other Clipart collections boast multple images of individual breeds. We actually include different images of the breeds, not simply duplicates of the same art recolored or repositioned.
The NEWEST additions - We have added more AKC breed images but not only are there more Dogs - - -
We have now added some Designer Dog Breeds! You can't find these anywhere else.
We have also added even more specific Cat Breeds and cat-related items and more breeds of Horses, Rabbits, Cattle and Hogs.
We also have a Non-Dog folder and the new 'Under the Sea' folder with our newest images.
Just a few of the newest horse breeds included are:

American Bashir Curly
Am Saddlebred
Andalusian
Appaloosa
Arabian
Barb
Buckskin
Cleveland Bay
Connemara
Friesian
Hackney Pony
Morgan
Mule
Paint
Paso Fino
Percheron
Peruvian Paso
Rocky Mountain
Royal Carraige Horse
Quarter Horse
Tang Dynasty Horse!
Tennessee Walking Horse

*Silhouettes available in the commercial versions only

Just a few of the newest Cat breeds included are:

Abyssinian
American Bobtail
American Curl
Balinese
Burmese
Birman
Cornish Rex
Devon Rex
Korat
Maine Coon
Manx
Munchkin
Norwegian Forest Cat
Oriental Shorthair
Rag Doll
Russian Blue
Scottish Fold
Snowshoe
Somali
If your application can import a graphic file . . . then the clipart will work .
The clipart files in the personal version are all in the TIF extensions for both MACs and PCs.
There is a variety of headstudies, fullbody clips and even some puppies (some holiday clips too!), obedience and agility clips. The majority of the clips are black and white bitmapped images ( you can color them if you wish ) and they print out well on all printer types. The color and grayscale folders contain very special clips - the grayscale folder contains detailed pencil drawings which are beautiful when used in pedigrees, letterhead or stationary.
The TIF set is for personal use; Non-Profit only. Please note: We now do offer a commercial version of the clipart in vector art for those who need it! (version 14.5- see link below)
This collection is very easy to use
Personal use version is priced at $36.95
More Clipart Sample Images - Click here: Image Samples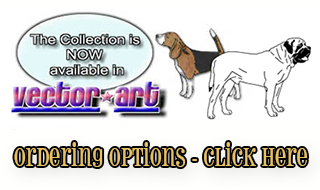 Need the artwork in Vector format? Wanting to increase your sales with your customers?
This is the perfect collection for those of you wanting to earn income in creating products you can market and sell with the best collection anywhere! We cater to businesses needing great vector images of dogs - and more. It is also important to note that we have not increased our prices at this time so this is a super value!
This is just the collection you will need for your start-up or existing business!
For the awesome commercial version in AI, EPS, WMF and DXF formats
For other items and services we offer just click on any option on the legend at the bottom of the page - or go back to our menu selection from our homepage!
For a FREE PDF sample to download select from the list below.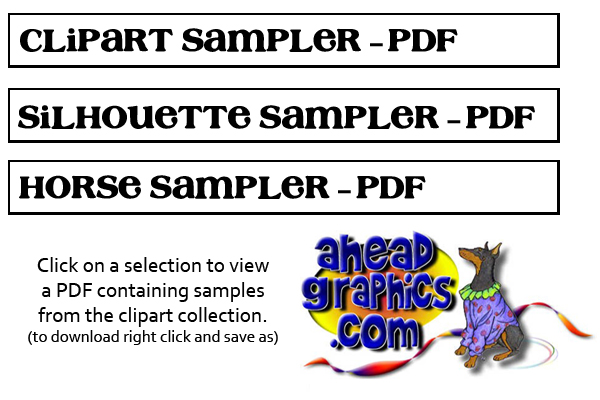 All graphics and content are © All Rights Reserved - AHEAD - 1995-2013
| Home | Intro | Private Clips | Dog Embroidery |
| About AHEAD | FAQ | Samples |