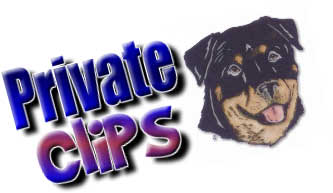 Do you have a special photo of your pet that you would like to have made into a "private" clip ?
We do "private" clips for those people who have a favorite photo of that special dog or cat (or even horses or other pets ) that they would like to have made into a graphic file or "clip" that can be used over and over ! These are original drawings , like in the clipart collection, not just a scanned photograph - real artwork of your pet, at an affordable price .
The fee for a black and white line art OR greyscale pencil drawing "private" clip is only $39.00 and all you need to do is to send us a copyright free photo, of good quality, of your pet. Please select Email delivery for no shipping!
Our artist will put your pet's image into an original drawing/clip and return the photo , unharmed , along with a disk with your pet's clip in the file format that you specify . Please inquire about other formats available .
(We do offer Color as well. Now available for $69.00)
Please allow up to 3 weeks for delivery !

Send all photos and orders to :
AHEAD GRAPHICS
1911 Flesher Avenue
Kettering , OH 45420
USA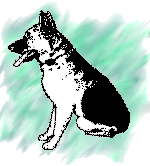 This is "THANE", drawn from his photo above put on a color background. All images are done separately.
Have questions ? Email Us - or call 937-252-4770
More Clipart Sample Images - Click here: Image Samples
For other items and services we offer just click on any option on the legend at the bottom of the page - or go back to our menu selection from our homepage!
For more information about our services, click HERE
All graphics and content are © All Rights Reserved - AHEAD - 1995-2010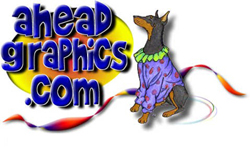 | Home | Intro | Order Info | Dog Embroidery |
| About AHEAD | FAQ | Logos | Samples |