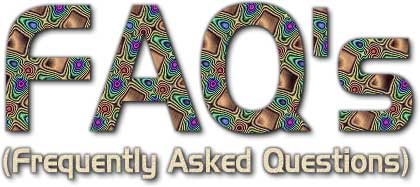 ---
What formats are available ?
The clips are in the TIF format and the clipart is available for both:
the TIF (PC) and TIF ( MAC) on CD-ROM
The COMMERCIAL VECTOR version formats include: EPS, AI, CGM , DXF and WFM
---
How do I import the graphics into my application?
This will actually vary from one application to another . Look for certain commands or 'keywords' such as 'IMPORT' , 'GET PICTURE' , 'PASTE', 'ADD OBJECT', 'RETREIVE' , or 'PLACE'. Again, checking the application's documentation should help you choose the proper command.
---
Do I have to copy all of the files to my hard drive ?
No, you don't have to. You may use the clipart directly off of the CD or copy certain ones you may use most often to their own directory or right into the directory of the application where you plan to use the clipart most in .
Almost any application (program) that can import graphics or pictures can be used with the clipart collection. You must have the program running to do this. The clipart is very easy to use and your imagination is the limit to what you can create.
---
Can I color the clips ?
Yes, the clipart collection is able to be brought up into a paintbrush program and colored . There are some pre-colored files inlcluded. Remember when and IF you save your work, save the clip under a different filename otherwise you will lose the original artwork .
---
My image looks skewed or distorted in the document. What is wrong ?
Most likely you did not retain the attributes of the file. In some applications holding down on the SHIFT key while pulling the "handles" of the image's frame to resize, will correct this .
---
Can the clips be used within my own webpages ?
Of course. . . first you must be able to convert the clips into a .GIF format . (or a .JPG) Resizing the clip to make it a better size for viewing is advised for web use as well as anti-aliasing the image after it has been resized. Making the image transparent adds a nice touch.
---
Can I use the art in resale or on products I produce?
The only time the art can be used in a commercial way is by purchasing the Commercial version. This version includes the full personal version of TIFs ( all color, greyscale and black and white clips) as well as a CD containing the artwork in vector format. By purchase of a commercial set you are granted license to reproduce the art on your products as desired. Included on the 3 Commercial CDs are PDF catalogs to use as a guide for your own customers!
---
How do I order the collection?
The collection is $36.95 ppd - check here for ordering information and to ORDER HERE.
---
To request a email or FAX sample - EMAIL US
If you have any other questions concerning the clipart collection you may contact us via email or phone .
Phone us between 9am-5:30pm EST at 937-252-4770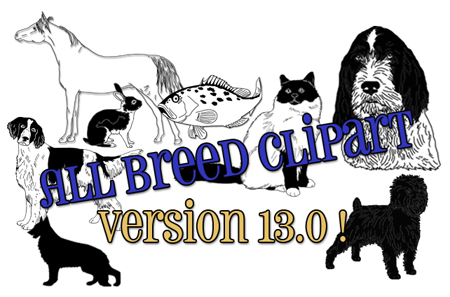 All graphics/content within this site are copyrighted to AHEAD Graphics - 1995-2009 All Rights Reserved
| Home | Intro | Private Clips | About AHEAD | Dog Embroidery |